Agricultural production is significantly influenced by animal health and comfort. Animal housing ventilation to remove moisture and odors and replace it with fresh air required for livestock productivity.
Ventilation also provides air movement which promotes cooling and improves air quality for animals. While contributing ventilated to profitability, if not designed properly, the energy used by the cooling and ventilation systems can significantly reduce their profits. We use various types of agricultural "Farm fan" (it is also known as "แฟนฟาร์ม" in the Thai language) according to the needs of agricultural production.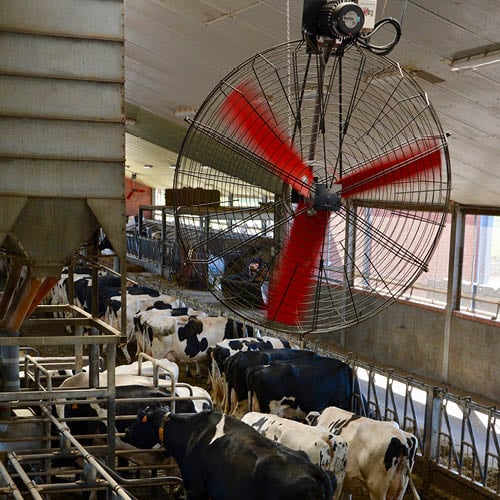 Natural ventilation is the supply and removal of air through openings in a building. It is driven by natural wind flow around the building and the temperature difference between inside and outside the building.
In many cases natural ventilation alone is not enough, because the temperature and the air exchange rate fluctuates with the external changes in temperature and wind conditions. Its use in agricultural production in confinement is most common in large animal housing, with the passage of air through the side and back walls of the openings.
Mechanical ventilation is common in swine farrowing and nursery buildings, lambing sheds, barns, warm housing dairy cows and calves, and milk houses. The most common approach is to use a fan to blow air out of the building, with fresh air drawn through the hole on the opposite side.
However, fans can also be placed in the warehouse to drain water and improve the uniformity of conditions.Therefore, the ventilation openings for livestock buildings are based on the thermal buoyancy to ensure that the minimum level required ventilation is achieved during still, wind-free day which is almost at the end of autumn.